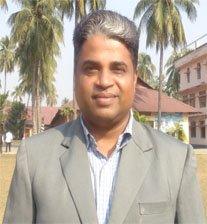 Welcome to Don Bosco Technical education website. If you are here because you are interested in developing your skills and becoming more successful in your work, then you have certainly come to the right place. We surely have come a long way since beginning of our centre in 1968 to a small skill training venture. As we have grown, our mission and training have expanded to meet the needs of the young people of our region to a large extent. Don Bosco Technical School provides skill training or upgrading of skills and knowledge through proficiency of life skills and computer applications. We are here to maximize your potential. All our courses are aimed at increasing your workplace skills and your effectiveness as an employee. Today we are not considered just a vocational training center but an all inclusive skill training provider. Over the years we have enhanced our efforts towards complete skill training initiative for young unemployed youth of all categories by developing specific curricula and plans for employment opportunities. This has resulted in offering many new and attractive skill training of varied interests for a diverse group of people in the region.
We consider "skills unlimited" to be a unique presentation for the people who do not limit our services to any particular domain or catchment areas. Today our concentration is directed to various groups of people with diverse interests and needs. We have a dedicated staff of professionals who work cooperatively and are very goal-oriented for a given purpose. In the recent past many individuals have passed through this institute and hundreds of them are currently employed with handsome salaries and perks. I am very happy that our customers trust us in the production workshop and the dedicated staff who work tirelessly for facilitating employment for the students. They are doing a commendable job in our institution and are capable of producing much more in working towards an enhanced society. The students, employees and the staff who make up our endeavour towards vocational education constitute our vision and mission, and I am confident that we will continue to serve the people in a better way in the years to come.
If you are thinking of improving your employability or you just wish to discuss your future career options, I urge you to get in touch with us and come and share with us what you're looking for.
I am happy to present you our new website with enhanced technology driven inputs and appearance.
JOBI MANI
Director, Don Bosco Technical School