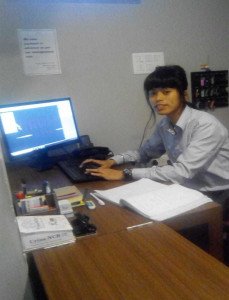 I am here to share my experience in Don Bosco Technical School Maligaon , Guwahati. Before that  I would like to share my family background .We have four members in our family,My father is a cultivator ,my mother is a house wife and I have a younger sister who is still a student. I took a Data Entry course in Don Bosco technical School, Maligaon for two months. Coming to Don Bosco Malegaon itself is a great feeling with a pleasant environment. The environment keeps our mind full of excitement and refreshed.
We had our classes from 9 am to 4 pm which includes Domain Theory and Practical classes. But the most exciting part of the whole day was when we use to get our carrier guidance class which was named as  My Quest, It includes all the guidance class which was named as My Quest, It includes all the guidance we need for our carrier. This class is taken by a trainer And Guest Lectures who guides us How to face an interview, teaches us how to be self confident and to take right decision  etc. In this class different activities are done like Market Scan so that we have a calculated course of the carrier we choose, presentation to build our confidence, debates so that we can speak out clearly with valid points and confidently.
I had a wonderful experience in Don Bosco Technical School; everyone takes good care of the students, Specially Fathers, brothers and of course Miss Shabnam Yasmin ,IT trainer of the centre.
I made a decision to support my family by doing a job but had no idea about what to do. Don Bosco Technical School Maligaon Gave me this confidence to decied and to have focus on Data Entry Operator  and choose it as my carrier. At present I am employed at Bharalumukh, Guwahati and I am very happy with my employment.
The word of gratitude is not enough for what Don Bosco Maligaon had made me and what it had done for me .Thanks for everything.